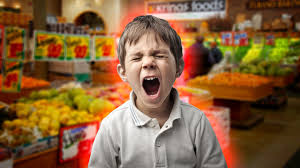 Dealing with meltdowns are perhaps one of the hardest things to deal with when you have three kids in the spectrum because when you need to see about calming one of them, the other two get meltdowns of their own because of the noise, screams and shouts the first one is making. It is even harder if out of the blue, one of them has a meltdown in the middle of the mall or the grocery store.
In the past, I was always concerned about the fact that people would stare at us. Of course, they would stare and give you judgmental "Looks" and on several occasions even approach you to tell you that the child needs "Licks" and they would attempt to give you a crash-course on how to parent your own child, even after you mention the word "Autism".
I cannot blame them entirely, I think if I didn't have any kids with special needs, I would probably be one of those people looking from far away and thinking they have everything figure out, when in reality they don't have a clue. Perhaps, I need to invest in some of those shirts you see online that says: "I am autistic, what is your excuse?". Having said that, there are also a few people who even though they cannot relate to what you are dealing with, they are helpful or they try to be understanding and accommodating.
Some time ago, we went out for a little bit. Our middle son loves to ride in maxi-taxis. He is usually very quiet during the trip; it is something that soothes him and he always look forward to it. We didn't have any other choice that day but to take a taxi (H car) back to our home. When his eyes met the car, he was a little reluctant. We tried to convince him to get in and he did but all of the sudden he just had a huge meltdown while the car was already in the road. He was screaming, shouting, biting, kicking, scratching, including kicking the door open while standing at a traffic light. My husband tried his best to control his behavior so he didn't hurt himself or others and then.. Our youngest started to behave in the exact same way when he saw his brother acting out like that so I had to also keep him under control.
Just imagine, two children in the spectrum in a taxi shouting, screaming and crying like if they were being kidnapped by terrorists. Cars passing next to us were watching us like if we were kidnapping the children; I was praying nobody call the police.
We tried our best to explain the taxi driver what was happening, he was very understanding and we paid him extra for the inconvenience. We had to stop the taxi at a certain location and take a maxi-taxi back home so they could down and they finally did. Our middle son got into the maxi and sat down like nothing ever happened.
This is one of the things about autism. After a huge meltdown and once they are somewhat back to normal, they act like nothing happened while of course, you probably lost all your hair, you are in tears and of course, stressed beyond comprehension. A successful family outing for me is one without meltdowns or one where we can all finish our meals.
Going to the grocery store with both of them at the same time, proved to be a challenge as well. When they are together they seem to feed from each other, so if we have no choice but to go in with both of them (Usually when we need two or three items), we cannot use a trolley or a basket, we have to carry the few items in our hands because otherwise they start fighting and having a meltdown over what exactly you put in the trolley.
If you happen to have neuro-typical kids, you just go around doing things naturally without much thought, but when you have kids in the spectrum you need to pause, stop and think just before you act, how exactly is my child going to react if I do X? How exactly is he going to be affected if I do Y?
You must be reading all this and thinking how do you guys do it, autism + 3? I don't know. I sincerely do not know. I have my days and at night, I try to relax a bit: eat something nice and watch a movie or something that makes me laugh. I need a few laughs because it gives me the strength to deal with how the day is going to be tomorrow.
When you are raising three kids in the spectrum, your goals aren't about what is going to happen in a month's time or next year or in the next ten years"¦your goal is to make it another day in the best way possible, trying your best to help, teach and serve your kids without going insane in the process.
We see improvements, sometimes those improvements seem to be too slow for our liking, but we remain positive and hopeful that all the things we do for our kids will have an impact on them and they will learn and be able to succeed in life. Because you see, when everyone else dreams with their children's future as doctors, engineers, lawyers and they are preparing their kids to accomplish such great goals, we are also raising our kids to accomplish a great goal: That they can live independently one day when we are no longer here.
For some, it may seem so little and insignificant"¦but for us, it is the biggest and most challenging goal in our lives. And we hope"¦we hope for a brighter future ahead of us and we dream with the day when we are very, very old and we can see them coming to our home with a big smile on their face saying: Mom.. Dad.. Guess what? We made it.