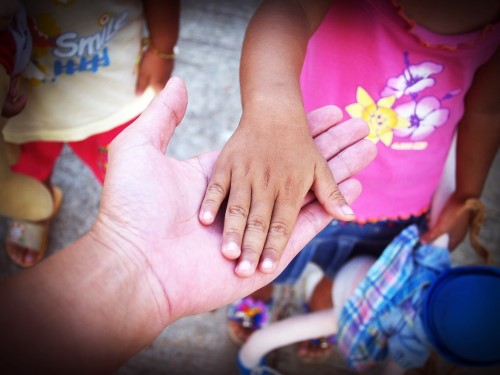 It is almost April and around this time, I am usually approached by organizations, companies or individuals who seek my support and/or interest about activities they are planning to carry out during Autism Awareness Month. I would like to take this opportunity to share my thoughts about these prospective events in order that autism parents, those who do not have children on the spectrum and people that are involved in the planning and execution of these activities can understand what is truly needed to help those on the autism spectrum and their parents. This comes from the mouth of a parent-soldier who fights daily battles from the hidden trenches as most autism parents do.
First, I would like the focus of this blog post to be a question. A question I would love for someone to ask me every time I am contacted about an event, a question that I believe to be vital as well as monumentally important in order to create change and truly help families affected by autism locally. The question:
What do parents and children on the autism spectrum need in T&T?
I am aware that as an autism parent, my needs might be different to another parent with a child on the spectrum. As the President of the Autism Parents Association of Trinidad & Tobago (APATT), my advocacy does not end with my own children. It extends to all children with autism living in this country. As special needs parents, it is only natural to keep focus on our own children; after all we have enough on our plate. Yet, I would like you to know that I am in touch with parents on a regular basis who are struggling terribly and they have serious needs and they have no one to turn to.
It is very hard to hear men cry over the phone because they are overwhelmed about the challenges associated with autism or hear a mother tell you they have no money to afford therapy for a child who beats her almost daily or an older parent asking you what can they do for the child to stop banging his head on the wall.
Imagine finding out about a 30+ year old son on the spectrum who never received schooling or therapy. What about having a mother tell you she has no choice but to take her two children with autism to work every day as a vendor to make ends meet because there are no schools for them. A lot of these parents are single with no family support whatsoever. Some of them cannot even afford basic groceries.
This is the reality of a LOT of autism parents in our country. When I blog, when I advocate, when I speak up it is with THEM in mind. I would like you to keep them in yours as well as I explain to you my position about these events and I share with you what can be done if you are interested in helping autism families.
As you know, I believe that in order to make true change that can help the entire autism community in our country; we need government involvement in the form of public therapy available for our children and schools catering for their needs.
We have pushed and will continue to push for this since we believe it to be the solution. I am quite aware that this type of change will require direct intervention by those in authority who are capable of making public special needs education and therapy available with the stroke of a pen – an agreement in cabinet – a caring heart. So what happens in the mean time? What can we do to help parents as the ones described above?
I will give my full support to any venture that FOCUSES on what can be done to HELP parents and children on the spectrum DIRECTLY. I will give my full support to any event/activity that provides totally FREE services for autism parents and their children because what parents truly need in very colloquial terms, is "A break". Some respite for an autism parent is an oasis in the middle of the desert. Someone who can be their superhero for a day and makes things better even if temporally.
As Autism Awareness Month approaches, I have some practical examples about activities that could directly help/benefit individuals on the spectrum and their families:
1. If you wish to have a display of services available for individuals with autism (Like an Autism Fair), instead of commercializing the activity by promoting businesses or make it look like a PR event, get in touch with therapists willing to donate their services for FREE and give out a few vouchers for free therapy sessions for children on the spectrum.
2. If you wish to do something fun for the children and/or the parents, you can sponsor FREE restaurant outings and movies. For a great number of homebound parents, this is a luxury. They could well benefit from a stress reliever.
3. If you are organizing a workshop that could benefit autism parents, please ensure it is FREE so needy parents can benefit. The reality is that the big majority of autism parents locally are financially broke and a lot of them are also single parents. They struggle financially to the point of taking bank loans in order to afford private therapy and private schooling for their children.
4. If you are planning an activity that requires the lighting up of trees and big buildings, why not use that money that is about to be wasted on lights and organize groceries and hampers for a few needy autism families in desperate need of help? In this way, you immediately impact their world in a meaningful practical way.
5. Organize FREE outings for children/teens and adults with autism. Please do not charge for this service, it is already hard enough for teens and adults who are aware of their struggles to make it to the group, let alone know their parents will have to pay to access it. Remember, this could be one of the few opportunities that many individuals on the spectrum will have to socialize with others.
6. Ask special needs teachers to volunteer a few FREE teaching sessions that could benefit children with autism who do not go to school. A lot of special needs teachers working in the educational system, are not given the opportunity to teach children with special needs, this could be a great opportunity for them as well.
One of the drums beaten during Autism Awareness month is "Awareness". The ones who need to be aware is the government, and in many regards they are aware but they feel that NGOs like APATT help solve the issue of autism in T&T but it does not. Awareness for most of the citizenry is not knowing the stories I shared earlier but PR events surrounding tents, balloons and lights. Autism is not a brand and our children are not the poster boys/girls. Commercializing autism, branding autism, does not pay for therapy or create schools for our children. It actually desensitizes autism.
The key word for all the activities I mentioned is FREE. Not because I believe in a "give me-give me" approach to things but because I believe this is what a lot of parents truly need. If we want to approach Autism Awareness Month by making an impact on the lives of autism families then why not take a practical approach?
Autism parents and those on the spectrum do not need your pity, they need to know that someone like YOU will give from your heart to help.
Consider the six points above, do it, and you will be touching the life of an autism parent or child / adult on the spectrum that needs to feel someone does care.