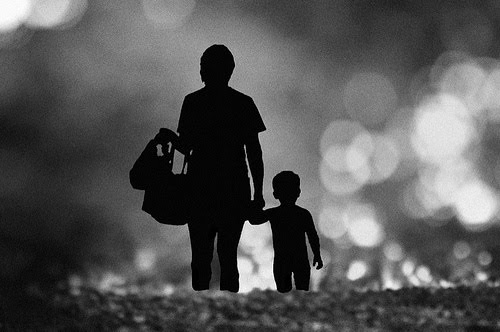 I have the wonderful opportunity to talk often to other parents with children with autism and hear their personal stories. Often times, they just need someone to talk to and listen to their personal journeys.
An elderly sweet lady from Central Trinidad who has an adult child with autism told me recently that her son never received any sort of therapy for his entire life (He is on his late 40's). She is unable to go out, does not know what a vacation is and never had an hour of respite care for the past 30 something years. What an amazing example of unconditional love and sacrifice!
Words cannot express how much I admire parents like her. She was not complaining about it at all but simply trying to share with me what life is for her. She cannot afford therapy for him and she stated that most professionals she contacted do not work with adults on the spectrum anyways.
Her life, she said, is about trying to keep her son calm at all times, 24/7 because he can get in some serious rages so basically she goes with the flow, whatever her adult son wants she tries to provide to avoid meltdowns and situations that she will be unable to control due to her age and fragile health.
Most of her challenges are all too familiar because unfortunately they repeat throughout many other families I speak to. Take for example this single mother of 2 young children with autism. She provides for them by selling small items in a local little shop but things are very hard and she is barely making enough money to put some food on the table.
Her two children are low-functioning/non-verbal, they are not going to school, she has no family support and because she is not very familiar with autism, she gets frustrated at their behavior. Almost in tears she asked me what school she can send her children to. I was trying hard to find the right words to say to this struggling mom but I really all I could think of was: What school??
Is there anything more frustrating as a parent than the inability to provide for the needs of your own child? A lot of these parents have the blessing of having spouses who can help provide financially and emotionally for their entire families but there is also many single parents among us who are doing everything on their own and often times relegating themselves for the sake of their loved ones. The latter, deserves more than a simple acknowledgement. They are the bravest group of people I can think of.
When I talk to these parents, I feel like part of me leaves with them because their pain feels oh so familiar and I am sure a lot of you can also relate to some of these challenges. It also makes me realize that I am not alone on this journey, that there are hundreds and even perhaps thousands of families in T&T going through similar situations and that each one of us regardless of where we are with regards to autism, are more alike than different.
Today, I want to propose a toast (with water for me because I don't drink alcohol) for EACH ONE OF YOU. For the tremendous work you do with your children, for the immense love you show towards your loved one, for your warrior-like spirit and for the amazing strength you display regardless of whatever obstacles are in your way.
You have made it so far and you WILL continue making it because you are amazingly strong. So let me see that smile, wipe away those tears and let's see what autism has in store for us tomorrow. I know I will be ready and so will you!

.