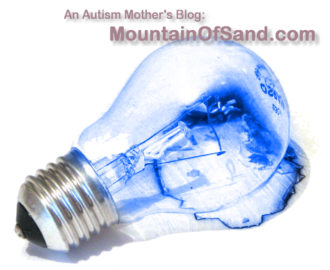 The largest organization on Autism called Autism Speaks created the "Light it up Blue" initiative back in 2010. Basically, businesses are asked to light their buildings blue to bring public "awareness" about autism but before you decide to support this campaign, please consider the following:
1. AUTISM SPEAKS

In 2012, Autism Speaks spent less than 4% on helping autism families (US$2,048,552) but spent a whopping US$18,484,028 in salaries. What about as recent as 2014? They spent over US$120,000,000 and just 3.84% of that money towards family related services. An obscene US$52,935,472 went to advertisement to keep the donations coming and an equal outrageous US$23,300,191 in salaries. What about families? At the bottom, they received a mere US$4,631,690.1
The most important factor is that organisations such as the Autistic Self Advocacy Network (Run by individuals on the spectrum) do not support Autism Speaks. Yes, you're reading well. Therefore, why promote an initiative that those on the Autism Spectrum themselves do not support? It is time to listen…
2. BLUE IS NOT THE COLOUR OF AUTISM

The colour blue has erroneously become symbolic of autism. Selfies of well-intentioned people wearing blue t-shirts are posted in social media and blue balloons are thrown in the air in dramatic fashion to "support" autism. Lots of decorations: blue puzzle pieces, blue buttons, donations and oh let's not forget the pictures, key ingredient in this whole autism collage – lots of them. The ironic part is that Autism does not have a color. Blue is the color of the Autism Speaks Corporation.
So when you're wearing blue or Light It Blue, you need to be aware that you are actually supporting an organisation that is making millions of dollars using Autism as a brand and only a tiny percentage of what they receive goes towards helping actual Autism families or individuals financially.
Just recently, I was asked by a local business what we planned to do for Autism Awareness Day surrounding the Light it Up Blue campaign. I explained why I do not support the initiative. I get it. It is easy to just put on a blue t-shirt, take a picture and think you are spreading awareness about autism. I know people mean well of course, but please do know that you're actually helping promote an organization that cares little for those on the spectrum.
3. OBSERVATION NOT CELEBRATION
In 2007, The United Nations General Assembly declared April 2nd as World Autism Awareness Day to highlight the need to help improve the quality of life of those with autism.They invited all Member States as well as other autism related organizations to observe World Autism Awareness Day in an appropriate manner, in order to raise public awareness of autism.2 The key word being observe and not celebrate.
When I see blue lights in buildings, I am deeply saddened. Lots of money burnt just like fireworks. The money these businesses are spending in buying blue lights could be put to good use and pay for some therapy for individuals with autism who are unable to afford these services, we have so many among us. :(Help should always be practical.
4. DONATIONS
Do you know if we were in the US, and the Light Up Blue Campaign is used to do any sort of fundraising activity utilizing the Light It Up Blue logo they must provide a minimum of 20% net proceeds to Autism Speaks?3
There are many questions you should ask yourself before venturing in supporting any initiative. Do the organizations you donate money to, display/state publicly and in total transparency how they are utilizing the money/donations they have received from private sponsors? (And in detail?) Or is this information very difficult to access or not provided at all? Do they give the impression that they are helping ALL families affected by autism in Trinidad & Tobago? Or the reality is that they are merely reaching a few, while the rest of the donations are lost in organizational structuring? Do these organizations support these campaigns and support Autism Speaks?
What can you do to truly help individuals with autism and their families locally?
Find a local family and ask them directly in what ways you can assist them financially. Maybe you can sponsor therapy or private tuition for their child. A kind note or letter from a well-meaning neighbor, preparing a nice meal for a family, inviting a child with autism to birthday parties or play dates are all great ways to show these families that they are not alone.
So next time, when you pass by any of the local businesses lighted in blue, just stand in front of the building, and ask yourself: How is this helping someone with autism? When someone asks you to support your business and Light it up blue for autism, ask yourself: How is this going to help an Autism family exactly? Because help is not lights, cameras and nice pictures, help is direct action for those who need it.
1. Source 3h and Source 1u
2. Source 5u
3. Source 3s.