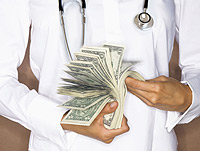 As a mother of three autistic children, I am always online trying to find ways to help them: New ideas, best teaching methods, the correct approach to different issues, etc and I always come across messages, or sites or videos that promise "Miracle cures" for autism: "Autism can be cured!" "Autism can be reversible!".
Many times I thought that perhaps the cure for autism (Like cancer) already exists but is not convenient because current methods are a multi-million dollar business so it does not call for a "Cure" anytime soon. How sad that is?
I think as parents we are all at different stages of accepting our children's conditions. It is certainly not an easy process, and as much as we love our children I don't think any parent was hoping to have a child with a disability. It is a different world where we all learn to cope each day and give our best to them because we love them very much.
Some parents have a harder time than others accepting this and they look for cures anywhere (Who can blame them?) and they are willing to pay any price so that their children can be cured and treated. There are people who unfortunately will take advantage of their situation.
My heart breaks in pieces when parents share with me their stories of taking loans, or giving their last savings to people who promised that a certain method will work out for their child. The methods cost thousands of dollars.
Miracle cures do not exist for autism. Perhaps we should spend more time trying to figure out ways to maximize our children's potential with the tools they already have rather than spend thousands of dollars in "Cures" that only cause broken hearts and broken pockets. Do not get me wrong, I know there are methods that can benefit children in the spectrum but the issue is finding the correct approach that works for your child and the right people who are genuinely interested in helping them succeed rather than seeing them as a number.
Over the years, I went through different phases in my life with regards to my children's condition but one thing always remained clear to me:
I am my children's best advocate and I will utilize every single drop of energy I have to ensure they are not used or abused for profit. I am their voice, their constant companion and I will always ensure to speak up on their behalf.